Blue Moon 
Lee Child
"This is a random universe," Reacher says. "Once in a blue moon things turn out just right."
 
This isn't one of those times.
 
Reacher is on a Greyhound bus, minding his own business, with no particular place to go, and all the time in the world to get there. Then he steps off the bus to help an old man who is obviously just a victim waiting to happen. But you know what they say about good deeds. Now Reacher wants to make it right.
 
An elderly couple have made a few well-meaning mistakes, and now they owe big money to some very bad people. One brazen move leads to another, and suddenly Reacher finds himself a wanted man in the middle of a brutal turf war between rival Ukrainian and Albanian gangs.
 
Reacher has to stay one step ahead of the loan sharks, the thugs, and the assassins. He teams up with a fed-up waitress who knows a little more than she's letting on, and sets out to take down the powerful and make the greedy pay. It's a long shot. The odds are against him. But Reacher believes in a certain kind of justice . . . the kind that comes along once in a blue moon.
Kiss the Girls and Make Them Cry
Mary Higgins Clark
When investigative journalist Gina Kane receives an email from a "CRyan" describing her "terrible experience" while working at REL, a high-profile television news network, including the comment "and I'm not the only one," Gina knows she has to pursue the story. But when Ryan goes silent, Gina is shocked to discover the young woman has died tragically in a Jet Ski accident while on holiday.
Meanwhile, REL counsel Michael Carter finds himself in a tricky spot. Several female employees have come forward with allegations of sexual misconduct. Carter approaches the CEO, offering to persuade the victims to accept settlements in exchange for their silence. It's a risky endeavor, but it could well make him rich.
As more allegations emerge and the company's IPO draws near, Carter's attempts to keep the story from making headlines are matched only by Gina Kane's determination to uncover the truth. Was Ryan's death truly an accident? And when another accuser turns up dead, Gina realizes someone—or some people—will go to depraved lengths to keep the story from seeing the light.
Twisted Twenty-Six
Janet Evanovich
This isn't just another case. This is family.
Grandma Mazur has decided to get married again – this time to a local gangster named Jimmy Rosolli. If Stephanie has her doubts about this marriage, she doesn't have to worry for long, because the groom drops dead of a heart attack 45 minutes after saying, "I do."    
A sad day for Grandma Mazur turns into something far more dangerous when Jimmy's former "business partners" are convinced that his new widow is keeping the keys to a financial windfall all to herself. But the one thing these wise guys didn't count on was the widow's bounty hunter granddaughter, who'll do anything to save her.
Noel Street
Richard Paul Evans
The year is 1975. Elle Sheen—a single mother who is supporting herself and her six-year-old, African-American son, Dylan, as a waitress at the Noel Street Diner—isn't sure what to make of William Smith when his appearance creates a stir in the small town of Mistletoe, Utah. As their lives unexpectedly entwine, Elle learns that William, a recently returned Vietnam POW, is not only fighting demons from his past, but may also have the answer to her own secret pain—a revelation that culminates in a remarkable act of love and forgiveness.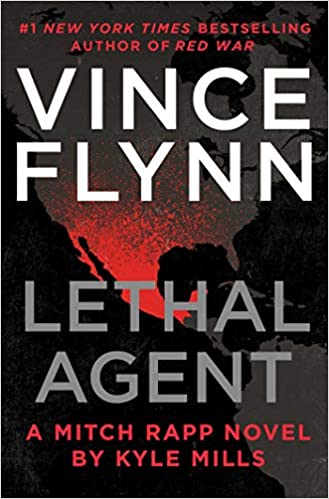 Lethal Agent
Vince Flynn
A toxic presidential election is underway in an America already badly weakened by internal divisions. While politicians focus entirely on maintaining their own power and privilege, ISIS kidnaps a brilliant French microbiologist and forces him to begin manufacturing anthrax. Slickly produced videos chronicling his progress and threatening an imminent attack are posted to the Internet, intensifying the hysteria gripping the US.
ISIS recruits a Mexican drug cartel to smuggle the bioweapon across the border, but it's really just a diversion. The terrorist organization needs to keep Mitch Rapp and Irene Kennedy distracted long enough to weaponize a deadly virus that they stumbled upon in Yemen. If they succeed, they'll trigger a pandemic that could rewrite the world order.
Rapp embarks on a mission to infiltrate the Mexican cartels and track down the ISIS leader who he failed to kill during their last confrontation. But with Washington's political elite increasingly lined up against him, he knows he'll be on his own.
Bad Memory
Lisa Gray
Quiet towns keep big secrets.
Private investigator Jessica Shaw is leading a quiet life in a Californian desert community, where she spends her days working low-level cases. But when a former resident asks Jessica to help her sister, Rue Hunter—a convicted murderer whose execution is days away—Jessica can't resist the offer.
Rue doesn't remember what happened the night two high school students were killed thirty years ago, but everybody in town is certain she's guilty. As Jessica looks for answers, she finds that local rumors point one way and evidence points another. And nobody wants to face the truth. Meanwhile, Jessica can't shake the feeling that someone is stalking her—now more than ever, she knows she can't trust anyone.
As Jessica digs deeper, she encounters local secrets in unlikely places—including the police department itself. But the clock is ticking, and Jessica must find the truth fast—or Rue's bad memory may be the death of them both.
The 19th Christmas
James Patterson
If the Women's Murder Club can't be together this Christmas, a killer is to blame.
As the holidays approach, Detective Lindsay Boxer and her friends in the Women's Murder Club have much to celebrate. Crime is down. The medical examiner's office is quiet. Even the courts are showing some Christmas spirit. And the news cycle is so slow that journalist Cindy Thomas is on assignment to tell a story about the true meaning of the season for San Francisco.
Then a fearsome criminal known only as "Loman" seizes control of the headlines. Solving crimes never happens on schedule, but as this criminal mastermind unleashes credible threats by the hour, the month of December is upended for the Women's Murder Club. Avoiding tragedy is the only holiday miracle they seek.
Aiming for Love
Mary Connealy
Josephine Nordegren is one of three sisters who grew up nearly wild in southwestern Colorado. She has the archery skills of Robin Hood and the curiosity of the Little Mermaid, fascinated by but locked away from the forbidden outside world–a world she's been raised to believe killed her parents. When David Warden, a rancher, brings in a herd much too close to the girls' secret home, her older sister especially is frightened, but Jo is too interested to stay away.
David's parents follow soon on his heels, escaping bandits at their ranch. David's father is wounded and needs shelter. Josephine and her sisters have the only cabin on the mountain. Do they risk stepping into the world to help those in need? Or do they remain separated but safe in the peaks of Hope Mountain?
Somke Screen 
Terri Blackstock
One father was murdered. Another was convicted of his death. All because their children fell in love.
Nate Beckett has spent his life fighting wildfires instead of the lies and rumors that drove him from his Colorado hometown. His mother begs him to come back now that his father has been released from prison, but it isn't until he's sidelined by an injury that he's forced to return and face his past. But that means facing Brenna too.
Fourteen years ago, Nate was in love with the preacher's daughter. When Pastor Strickland discovered Brenna defied him to sneak out with Nate, the fight between Strickland and Nate's drunken dad was loud—and very public. Strickland was found murdered later that night, and everyone accused Roy Beckett. When the church burned down not long after, people assumed Nate set the fire to get even for his father's conviction. He let the rumors fly and left town without looking back.
Brenna is stunned to learn that the man convicted of murdering her father has been pardoned. The events of that night set her life on a bad course, and now she's fighting a brutal custody battle with her ex and his new wife where he's using lies and his family's money to sway the judge. Brenna is barely hanging on, and she's turned to alcohol to cope. Shame and fear consume her.
As Nate and Brenna deal with the present—including new information about that fateful night and a wildfire that's threatening their town—the past keeps igniting. Nate is the steady force Brenna has so desperately needed. But she'll have to learn to trust him again first.
Twice in a Blue Man
Christina Lauren
Sam Brandis was Tate Jones's first: Her first love. Her first everything. Including her first heartbreak.
During a whirlwind two-week vacation abroad, Sam and Tate fell for each other in only the way that first loves do: sharing all of their hopes, dreams, and deepest secrets along the way. Sam was the first, and only, person that Tate—the long-lost daughter of one of the world's biggest film stars—ever revealed her identity to. So when it became clear her trust was misplaced, her world shattered for good.
Fourteen years later, Tate, now an up-and-coming actress, only thinks about her first love every once in a blue moon. When she steps onto the set of her first big break, he's the last person she expects to see. Yet here Sam is, the same charming, confident man she knew, but even more alluring than she remembered. Forced to confront the man who betrayed her, Tate must ask herself if it's possible to do the wrong thing for the right reason… and whether "once in a lifetime" cancome around twice.
The Family Upstairs
Lisa Jewell
Be careful who you let in.
Soon after her twenty-fifth birthday, Libby Jones returns home from work to find the letter she's been waiting for her entire life. She rips it open with one driving thought: I am finally going to know who I am.
She soon learns not only the identity of her birth parents, but also that she is the sole inheritor of their abandoned mansion on the banks of the Thames in London's fashionable Chelsea neighborhood, worth millions. Everything in Libby's life is about to change. But what she can't possibly know is that others have been waiting for this day as well—and she is on a collision course to meet them.
Twenty-five years ago, police were called to 16 Cheyne Walk with reports of a baby crying. When they arrived, they found a healthy ten-month-old happily cooing in her crib in the bedroom. Downstairs in the kitchen lay three dead bodies, all dressed in black, next to a hastily scrawled note. And the four other children reported to live at Cheyne Walk were gone.
Murder in Her Stocking 
G.A. Mckevett 
As the Moonlight Magnolia Agency revisits old memories on Christmas Eve, Granny Reid takes the reins back thirty years to the 1980s—back when she went by Stella, everyone's hair was bigger, and sweaters were colorful disasters. But murder never went out of style . . .
Christmas has arrived in sleepy McGill, Georgia, but holiday cheer can't keep temperamental Stella Reid from swinging a rolling pin at anyone who crosses her bad side—and this season, there are plenty. First an anonymous grinch vandalizes a celebrated nativity display. Far worse, the scandalous Prissy Carr is found dead in an alley behind a tavern. With police puzzled over the murder, Stella decides to stir the local gossip pot for clues on the culprit's identity . . .
 
Turns out Prissy held a prominent spot on the naughty list, and suspects pile up like presents on Christmas morning. Unfortunately, the more progress Stella makes, the more fears she must confront. With a neighbor in peril and the futures of her beloved grandchildren at risk, Stella must somehow set everything straight and bring a cunning criminal to justice before December 25th . . .